Several little-known ideas that will influence the longer-term future
September 21, 2017
Full House at the Faculty of Law for Professor Dennis Meadows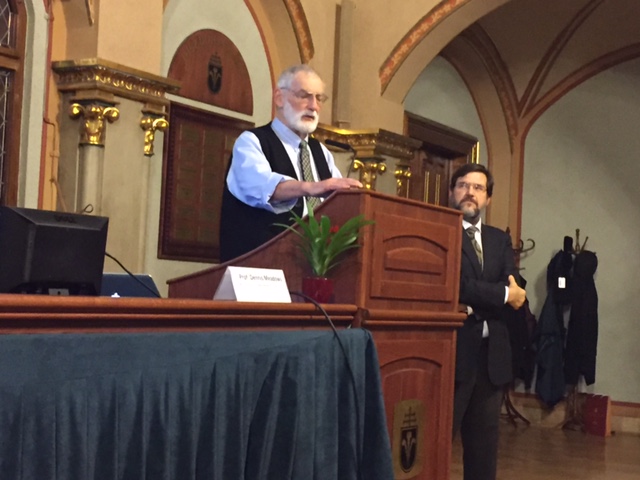 Emeritus professor Dennis H. Meadows - best known for being co-author of the ground-breaking study "Limits to Growth" - visited our Faculty on two occasions this September. He was invited by the Department of Environmental Law and Competition Law.
On September 14th a joint seminar entitled "The Practice of SD Efforts: Institutions, Processes, Personal Behaviour" was organised at our premises by the Balaton Group and Pázmány Péter University for a small international postgrad-postdoc group, including Hungarian participants. Dr. Meadows talked about what sustainable development actually means for professionals, sharing possible life strategies and professional behaviour guidelines.
The group was also addressed by Professor Gyula Bándi, Ombudsman for Future Generations.
On September 21st professor Meadows delivered a lecture for a large audience at the Saint John Paul II. Hall of the Faculty of Law and Political Science. In his talk listing "Several little-known ideas that will influence the longer-term future" Meadows emphasized the importance of building the general resilience at all levels: personal, family, community, town, country, in anticipation of some inevitable consequences of climate change and the ecological crisis. Other useful ideas included the establishment and use of local currencies, taking into account energy return over investment when choosing energy strategies, and using happiness indexes to measure social progress, rather than GDP. After his talk, professor Meadows answered questions from a diverse audience drawn from all age groups and from many prestigious institutions.